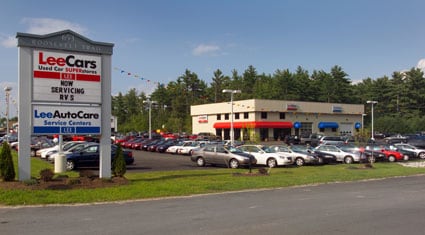 LeeCars / Lee Credit Express Windham
Serving Windham Maine and the greater Sebago Lake region.
653 Roosevelt Trail
Windham, Maine 04062
Sales: (888) 651-8853
Service: (866)-773-1037
LeeCars Windham, located on Route 302 on the way to Portland, is a full-service used car dealership that will meet all of your automotive needs and exceed your expectations:
We stock a wide inventory of used cars, trucks and SUVs to fit a variety of lifestyles and budgets. Our inventory is value-priced and is updated constantly with fresh purchases and trade-ins.

As part of Lee Auto Malls, LeeCars Windham has access to more than 1,000 used cars located at 19 locations throughout Maine. We can bring any used car available in our groupwide inventory to Windham, often within 24 hours.

Our Windham LeeAutoCare service center will keep your car running smooth long after the sale. We service all makes and models, from routine oil changes to major engine repairs. And you can schedule your appointment online!
Through our Lee Credit Express program, we offer more financing options that any other used car dealer in Maine. We'll work with up to a dozen different lenders on your behalf - including exclusive options not available to other dealers - to craft the right financing package to fit your needs. Whether you need a low downpayment or have past credit problems, we'll go to work for you to get you the car you want! It all starts with an easy online application.


Get started today with a sales consultation with one of our friendly internet sales consultants. Send us a message or call (888) 651-8853. We look forward to serving you!