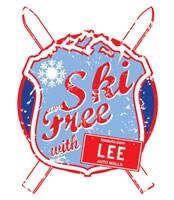 UPDATE: Ski Free With Lee is now Friday, Feb. 3. See you on the slopes!
The snow hasn't flown and the mountains are bare, but that doesn't mean we aren't already thinking about ski season.
So mark your calendars, skiers: Lee Auto Malls is hosting a "Ski Free With Lee" event at Lost Valley Ski Area in Auburn on Friday, Jan. 13. We're opening the slopes to everyone for a free night of skiing and snowboarding.
If you run into some bad luck and can't make it on the 13th, don't worry: We'll be hosting another free skiing night on Feb. 10.
Thanks to our friends at Lost Valley for working with us to make this event happen. Don't miss your chance to "Ski Free With Lee" and keep an eye on the Lee Auto Malls Facebook page for more details.