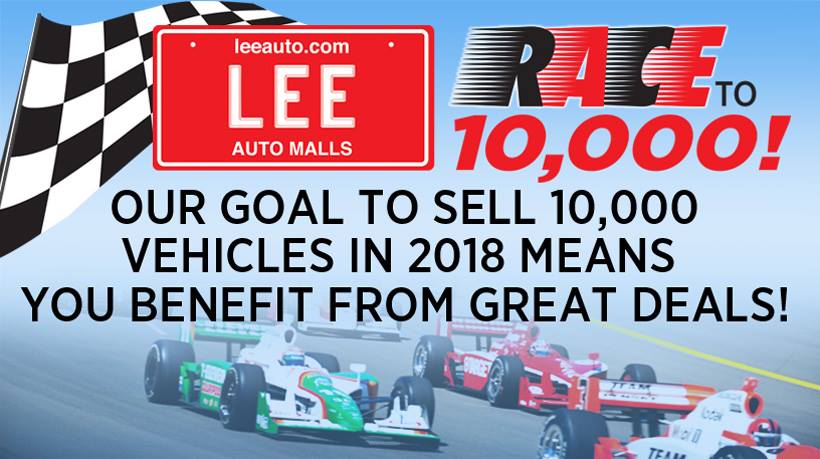 Lee Auto Malls is in the midst of our year end race to 10,000. If you haven't seen the many ads, banners, or online displays that discuss this fun event, here's a brief overview. Each year we attempt to sell 10,000 vehicles. There are no limitations to the vehicles themselves, they can be new, used or leased to count towards our goal. All of our new and used dealerships throughout Maine are participating in this event which means we're covering quite a bit of our beautiful state.
The first reaction someone might have when we start discussing the race to 10,000, is that it is just a marketing ploy to sell more cars, which is fair. We would very much like we to sell as many vehicles as possible, that is our business after all, but the Race to 10,000 is more than that for us. It's about making friends.
Lee Auto Malls is a third-generation family owned business that has been around for over 80 years. Growing and maintaining a business for that long doesn't happen by simply selling as many vehicles as you possibly can. That happens when you are a sound business that cares about your customers and community. Since our inception we have been proud members of our community and as we've grown, we have continued to bring that sense of friendship and civic duty into our new communities.
Over the years we have grown from a single used car lot to 13 new car franchises and 15 used car stores. Having such a large number of dealerships gives us the ability, and necessary inventory, to even think we could sell 10,000 vehicles in a year. It also gives us a greater understanding of Mainers. Each location brings their own unique style and understanding of what our friends in the community need and want; and that is how we look at those that live in the cities and towns we do business in…as friends. Quick research of our Facebook pages and our online presence will demonstrate that this is true. Virtually every comment and review talks about how friendly and caring our staff is. Whether it is a sales person, a service technician or one of our many phone representatives, our first goal is to ensure you have a positive experience when you spend time with us, we really do want to be your friend.
All of this is to say that when we set our goal of selling 10,000 vehicles in 2018, what we are really excited about is making 10,000 friends.
Currently we have made over 8500 new friends this year and really want to hit that 10,000 mark. We would love your help. If you, or someone you know, is looking for a new, or new to you, vehicle, please visit our website to check out our inventory, make an appointment to take a test drive and then swing in to whichever dealer is closest to you. If you mention that you are there to help us "Race to 10,000" you just might get a hug.
From all of us at Lee Auto Malls, thank you to all of our friends, old and new. We are proud to be in your community and will continue to provide the great service and friendship you have come to expect.