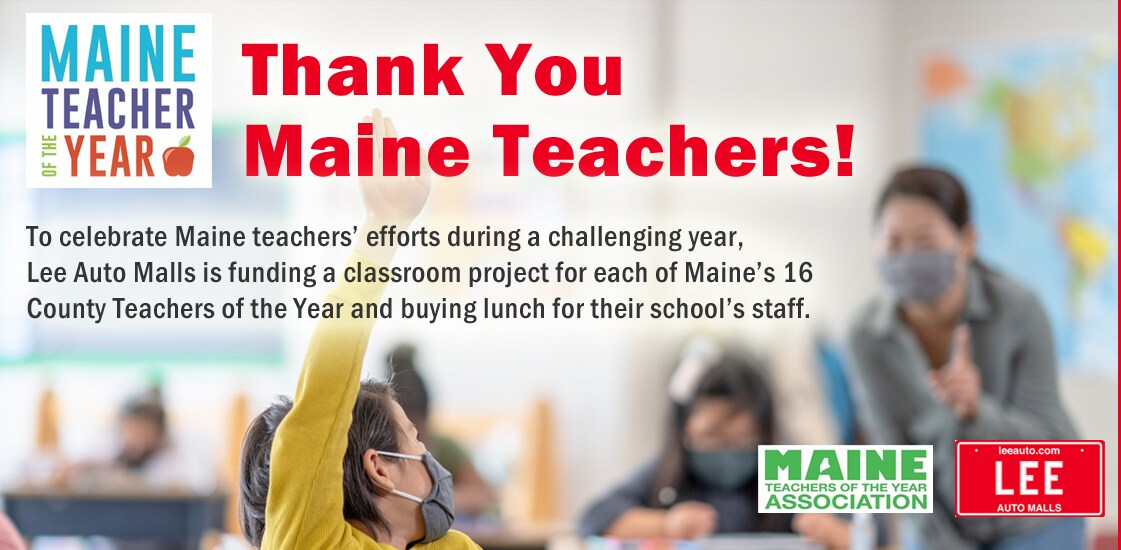 Lee Auto Mall Celebrates Maine's Teacher of the Year winners
2020 was a difficult year for many Mainers, and it posed major challenges for Maine's teachers. First came a rapid switch to remote learning, then a return to a classroom environment that was radically different from the one they left. Teachers were challenged to create an enriching and productive learning environment while keeping their students and themselves safe.
Maine teachers answered the challenge, and this spring Lee wants to celebrate their efforts. We've partnered with the Maine Teacher of the Year Association to recognize the 16 Maine County Teacher of the Year honorees in 2020. For each of these exemplary teachers, Lee will fund a classroom project. And as an added bonus, we're buying lunch for their school's entire staff!

See who the Maine County Teachers of the Year are by visiting the Maine Teacher of the Year website. Or nominate your favorite teacher for the 2021 awards! Thank you to the Maine County Teachers of the Year and to all of the fantastic teachers across Maine. The Lee family and all of our 400+ employees appreciate your commitment to Maine's kids!